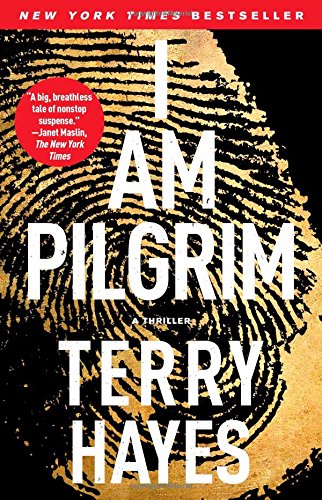 The Blurb
A breakneck race against time…and an implacable enemy.
An anonymous young woman murdered in a run-down hotel, all identifying characteristics dissolved by acid.
A father publicly beheaded in the blistering heat of a Saudi Arabian public square.
A notorious Syrian biotech expert found eyeless in a Damascus junkyard.
Smoldering human remains on a remote mountainside in Afghanistan.
A flawless plot to commit an appalling crime against humanity.
One path links them all, and only one man can make the journey.
Pilgrim.
My Review
I'll start by saying this book is quite long and it can jump around a bit at the beginning while you are getting to know the characters but then it starts to make sense.  Reading through other people's reviews (only after reading the book – otherwise I only read the rating) I can see that the book has polarised a lot of people.  I can't say I was ever bored while listening to it or wanted to put it down but it wasn't quite as exciting as the blurb made it out to be.
It's a book in the style of 'The Bourne Identity' where there's a super secret agent (our hero) who goes deep under cover to stop a lone man's long planned terrorist attack.  At some points in the book I was thinking 'can you really do that?'
Although this book is apparently part of a series, there is no word yet on when the next book will be released but I'm not holding my breath.
All in all, this book was ok, it was an enjoyable if not scary experience of knowing what dangers are out there.
I am rating this book 3.5 stars.

Buy the Book
| | |
| --- | --- |
| Author | Terry Hayes |
| Binding | Paperback |
| Brand | Hayes Terry |
| EAN | 9781439177730 |
| Edition | Reprint |
| Feature | I Am Pilgrim A Thriller |
| ISBN | 1439177732 |
| Label | Atria/Emily Bestler Books |
| List Price | $17.00 |
| Manufacturer | Atria/Emily Bestler Books |
| Number Of Items | 1 |
| Number Of Pages | 624 |
| Package Quantity | 1 |
| Product Group | Book |
| Product Type Name | ABIS_BOOK |
| Publication Date | 2014-12-02 |
| Publisher | Atria/Emily Bestler Books |
| Release Date | 2014-12-02 |
| Studio | Atria/Emily Bestler Books |
| Title | I Am Pilgrim: A Thriller |
Bestseller's like I Am Pilgrim