A young woman's journey of discovery takes her to a world of forbidden passion, savage beauty, and revenge.
Spring, 1950. Alexandra de Falla, a half-English, half-Spanish young writer abandons her privileged but suffocating life in London and travels to Spain to be reunited with her long-estranged family.
Instead of providing the sense of belonging she yearns for, the de Fallas are driven by seething emotions, and in the grip of the wild customs and traditions of Andalucia, all of which are alien to Alexandra.
Among the strange characters and sultry heat of this country, she meets the man who awakens emotions she hardly knew existed. But their path is strewn with obstacles: dangerous rivals, unpredictable events, and inevitable indiscretions. What does Alexandra's destiny hold for her in this flamboyant land of drama and all-consuming passions, where blood is ritually poured on to the sands of sun-drenched bullfighting arenas, mysterious gypsies are embroiled in magic and revenge, and beautiful dark-eyed dancers hide their secrets behind elegant lacy fans?
"Indiscretion" is a story of love and identity, and the clash of idealism the pursuit of happiness. But can love survive in a world where scandal and danger are never far away?
Book Details
My Review
I was really looking forward to reading listening to this book ever since I read Hannah Fielding's first book Burning Embers.  I really enjoyed the picture that her first book painted.  This one was set in Spain instead of Africa and this one is part of a new trilogy (although it seems to be a standalone trilogy?).
I felt that this book was very well written and extremely descriptive.  I felt like I was walking the streets of Andalucia right with the main characters.  I liked our heroine Alexandra but sometimes I just wanted to shake her.  When I found out who our hero was I was like 'whaaaaat?' and it kind of turned me off.
I liked the adventure in the book and the writing was excellent but it may have dragged on just a bit for my liking.
I give this book 4 stars!

See my status updates for this book on Goodreads:
Indiscretion by Hannah Fielding
My rating: 4 of 5 stars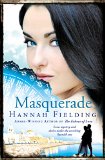 From the award-winning author of The Echoes of Love. Love, mystery and desire under the scorching Spanish sun.
A young writer becomes entangled in an illicit gypsy love affair, pulling her into a world of secrets, deception and dark desire.
Summer, 1976. Luz de Rueda returns to her beloved Spain and takes a job as the biographer of a famous artist. On her first day back in Cádiz, she encounters a bewitching, passionate young gypsy, Leandro, who immediately captures her heart, even though relationships with his kind are taboo. Haunted by this forbidden love, she meets her new employer, the sophisticated Andrés de Calderón. Reserved yet darkly compelling, he is totally different to Leandro but almost the gypsy's double. Both men stir unfamiliar and exciting feelings in Luz, although mystery and danger surround them in ways she has still to discover.
Luz must decide what she truly desires as glistening Cádiz, with its enigmatic moon and whispering turquoise shores, seeps back into her blood. Why is she so drawn to the wild and magical sea gypsies? What is behind the old fortune-teller's sinister warnings about 'Gemini'? Through this maze of secrets and lies, will Luz finally find her happiness… or her ruin?
Masquerade is a story of forbidden love, truth and trust. Are appearances always deceptive?
My Review (not yet read)
About the Author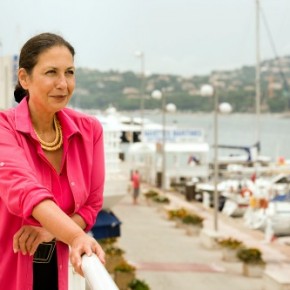 Hannah Fielding is an incurable romantic. The seeds for her writing career were sown in early childhood, spent in Egypt, when she came to an agreement with her governess Zula: for each fairy story Zula told, Hannah would invent and relate one of her own.
Years later – following a degree in French literature, several years of travelling in Europe, falling in love with an Englishman, the arrival of two beautiful children and a career in property development – Hannah decided after so many years of yearning to write that the time was now. Today, she lives the dream: writing full time at her homes in Kent, England, and the South of France, where she dreams up romances overlooking breath-taking views of the Mediterranean. 
To date, Hannah has published four passionate, evocative novels: Burning Embers, a 'romance like Hollywood used to make', set in Kenya; the award-winning Echoes of Love, 'an epic love story that is beautifully told', set in Italy; and books 1 and 2 of the Andalusian Nights trilogy, set in sultry Spain, entitled Indiscretion and Masquerade. She is currently working on her fifth book, Legacy, which will publish this spring.
Enter the giveaway
Buy the Books
Similar Bestsellers