I am thrilled to be part of this blog tour! I am so glad I read this book! It is amazing!  I also had no intention of character casting this book but once I saw Robbie Amell I thought he looked exactly like what I imaged Daniel to look like!  I think we get a good idea of Aubrey from the cover.  What do you think of Robbie Amell? Leave me a comment!
I thought this book was fantastic!  I was all 'frazzled' while reading it! 🙂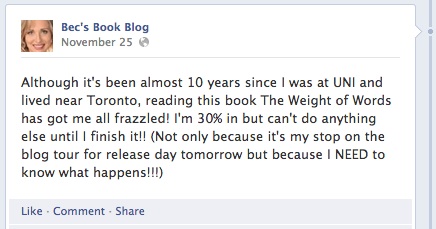 ---
The blurb
Aubrey Price is in the final months of her undergraduate degree at the University of Toronto. Bright, witty and fiercely independent, Aubrey works part-time for the college Dean and has her sights set on graduating with distinction. When she meets Dean Grant's son, Daniel, the TA in her senior Shakespearean studies course, a shared love of the Bard's works and an instant mutual attraction draw Aubrey and Daniel together. Unfortunately, a strict anti-fraternizing policy, made more perilous by a black mark on Daniel's record, keeps them apart.



Against this academic backdrop, Aubrey and Daniel navigate their way through a steamy courtship, their forbidden romance aided, abetted and sometimes thwarted by a colorful cast of friends, family and classmates.
Title: The Weight of Words


Author: Georgina Guthrie


Genre: Contemporary Romance / New Adult
Publication Date: November 26, 2013


Publisher: Omnific Publishing
Cover by: Micha Stone and Amy Brokaw
Event organized by: Literati Author Services, Inc.

Add to Goodreads:  The Weight of Words
#oneclick links: The Weight of Words | Barnes & Noble
---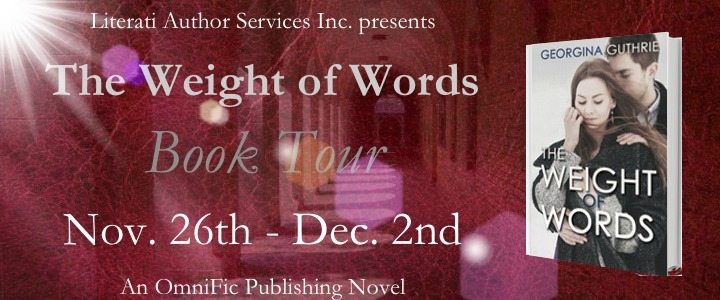 About the Author
Georgina Guthrie has been a self-professed book hugger for as long as she can remember. An avid reader and compulsive diarist, she is thrilled to be taking the leap into the world of publishing. GG resides in Toronto, Canada, but she still considers herself a Brit through and through and can often be found roaming the aisles of her favourite British import shop.
A graduate of the University of Toronto where she studied English literature, GG is happy to fill her hours reading and writing, but she's just as likely to be found enjoying a good film with her husband, dancing around the kitchen with her daughter, or hanging out with friends and family, almost certainly with a glass of red wine in one hand a bag of cheese and onion crisps in the other.


Connect with the Author 
Facebook | Website | Twitter | Goodreads
What I thought….
This is a book that has been 4+ years in the making.  The original draft was published in 2009 and over that time a lot of people have helped the author to create this wonderful story!  I think this is an amazing precedent to all the new quick books that are coming out.  This one has depth, feeling & a lot of research!  You can tell it wasn't written in a month or two!
I loved the emotions that this book brought out in me.  I was so conflicted by the way the characters were feeling.  I loved that we got to read a little bit from Daniel's POV as well which clarified a lot.  This book is not an 'adult book', more New Adult set in a University.  It reminded me of my UNI days and made me feel a bit nostalgic!
On another note, some clues that I find very suspicious in the closing remarks is that she had help from a certain SR to craft this book.  I can't help imagine that SR is Sylvain Reynard.  The third book in his trilogy is coming out this week and is the book I am going to read next.  Both of these books are set at the University of Toronto.  Both of these books feature Teaching Assistant/Student relationships.  I love that these two authors have written two completely different books with similar themes.  This book isn't as graphic as the Gabriel's Trilogy which also was a lot more of an 'adult' book rather than contemporary romance/NA themes. 
I am rating this book Weight of Words 5 stars because it was amazing.  I'm speechless now after finishing it!  I was completely drawn in the WHOLE time while reading it!  
Tour-Wide Giveaway