**  Updated January 2014 **
The 3rd book in the Peaches Monroe series Starfire has just been released!  I loved the first 2 books and can't wait to get my hands on this one!
'Peaches Monroe is a sassy plus-sized bookstore manager who gets tangled up with extremely hot men.' 
I am so excited to be part of the blog tour for Starlight (Peaches Monroe #2) by Mimi Strong.  The Peaches Monroe series follows Peaches through her dating dramas! This book is part of a series of 4 books with the first book being Stardust (Peaches Monroe #1).  The series should definitely be read in order.
I am really glad I got to read these books even though they took me on an emotional journey from start to finish!  There were ups & downs in the story and sometimes I was upset at where it was going but other times I was super happy with it.  
Whichever way I was feeling, I was hooked & I couldn't stop reading!  I just had to know what was going to happen!  It took me 3 days to read both books, as soon as I finished the first one I started the 2nd one.
The blurbs are:
Book #1 Stardust
There I was, minding my own business at Peachtree Books when this lunatic comes racing in the door and knocks me into his arms. I would have ripped him a new one, but he was kinda familiar, and hot. Like I-want-to-have-your-sexy-babies-now hot.

Turns out he looks familiar because I stare at his gorgeous face on TV every week. Yup, Dalton Deangelo. In the oh-so-firm flesh.

I let him hide out from the press for a while, then I thought he'd be on his way, and I could breathe normally again. But no. He found me interesting. He wanted to tag along to my cousin's wedding with me. I couldn't say no to that face … or THOSE EYES. Before the night was through, he was saying sweet things, then dirty things. Very dirty things.

I try to keep my eyes wide open. I've made terrible, stupid mistakes in the past. But Dalton Deangelo's touch turns me to Jell-O.

I'm just a regular girl, and he's rich and famous with no body fat. The guy has a butler! So, why is he chasing me? And why can't I say no? And what is this sordid secret of his the reporters are trying to uncover?
Book #2 Starlight
So, I fly my rockin' curves off to LA for the big Peaches Monroe (that's me) underwear shoot.

I'm nursing a broken heart from you-know-who, when along comes Keith Raven. Sexy, tanned, and nearly naked. He's my new co-model, and let me tell you, Keith is the full package with a big package (wink, wink).

My new bestie Mitchell warns me that all male models are walking disasters, but I think Keith's different. He meditates, for example. And, unlike some people, he doesn't toy with my affection.

Staying at Keith's apartment in LA and swimming in his pool is heavenly, not to mention the more intimate details of our Rebound Arrangement. What's a Rebound Arrangement, you ask? It's a fixed-length romance and a great way to turn your world upside-down.

Meanwhile, Dalton Deangelo is trying to redeem himself and win me back. He sucks at redemption, but he is charming.

Somebody please stop me, because if I keep slamming my heart like this, it's going to break.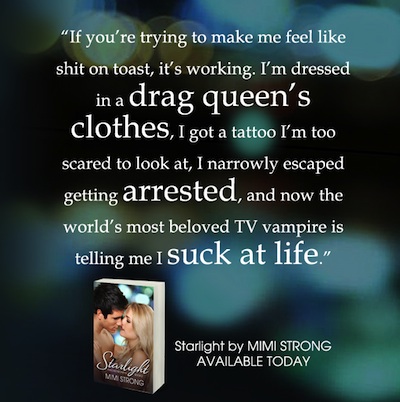 I went through a lot of emotions while reading both of these book.  I was angry, I was sad, I was confused, I was happy, I was elated, I was thrilled, I was shocked & I was annoyed. 
Meeting Peaches Monroe is a real roller coaster!  She is a sassy, smart girl who isn't quite sure what she wants!  You should know that these are the first 2 books of a series of 4 books and they do have cliffhanger type endings.  
I am rating both of these books 5 stars since I was completely captivated by the characters and cannot wait until the next two books in the series are released!
The author Mimi Strong answers some questions about the series for us:
Q. Wasn't the first book originally called "We are Made of Stardust?" Why did you change it?
A. I love weird titles, but it was too weird, even for me. Even I kept mistyping the thing, so I knew readers were having trouble with that mouthful. 
Q. Where did you get the idea for this series?
A. Part of the inspiration is from that great romantic comedy movie, Notting Hill. Also, about a year ago, I wrote a book about a smart mouth waitress, and people loved the character so much. It was a YA book, and I had this weird psychic feeling (ha ha) that people might like a sassy character like that in an adult book, along with lots of sex and romance and great banter. I knew that I'd love to read a book like that, so I figured it would be fun to write, and it is!
Q. How many Peaches Monroe books will there be?
A. After Book 1 came out, I asked my readers how much Peaches they wanted. Everyone said they loved Peaches, wanted the experience to never end, and wanted many, many books. I don't usually write long series, so I decided to make it 4 books, total. That's a quadrilogy. Each one is a full-length novel with its own storyline, and the books are inter-linked. 
Q. Will Peaches find love?
A. Um, what do you think? Do I seem like a particularly cruel author? 😉 I'm trying to write a romance here! I think it will happen, eventually.
Q. When people find out you write erotic romance, do they treat you like a freak?
A. Yes, but I am a freak, so that's okay.
Q. When is book 3 coming out? And book 4?
A. I haven't set a date yet. I write fast, so it won't be too long, but I need to take my time and take care of Peaches while simultaneously torturing the poor girl. Writing a series with a character that readers love so much makes me feel like Peaches Monroe is a real person, and I'm just licensed to write her story. If I don't do a great job, I worry I'll get fired. So, I'm going to try to get you more books as quickly as I can without getting fired. (Don't worry about my mental health; I hear this is completely "normal" for authors of series.)
Q. Where do you get your ideas?
A. Many of the details come from all around me. I have a friend who makes root beer and spilled it in my kitchen while I was writing Starlight, so that became a character Mitchell used to date. Peaches' clothes all come from stylish women I see around me. The phrase "earth muffin," which is used a lot in Starlight, came from my Aunt Bev, who came to town briefly in July. She said the phrase, which I'd never heard before, but instantly loved. A good portion of the story is entirely made up while I'm sitting in a very plain room, facing a wall, so I don't know where all that comes from. My head, I suppose. 
Q. What's the hardest part of writing?
A. Usually I say it's the words. But today I'll be serious and give you a serious answer: fear. Always the fear. I'll be typing a sentence and imagine a specific person reading that sentence, and it stops me cold. It's a huge mind game to get over that stage fright. Some authors drink. I've tried a beverage or two, and it doesn't help at all, so I just have to stare down the blank page and the fear, totally sober, like a good role model. (You're welcome!)
Q. Who would play the characters in a movie?
A. I think I should play them all, with puppets. The sex scenes could be a real challenge, but I'm willing to try.
Genre:  New Adult Romantic Comedy
Author:  Mimi Strong /  FB: www.facebook.com/mimistrongauthor
Rating: 5 stars
Add on Goodreads:  Stardust  /  Starlight

One-click Buy from Amazon:  Stardust (Peaches Monroe #1)
 / Starlight (Peaches Monroe #2)

Support indie authors by purchasing their books & leaving a review wherever you bought it!
The author is offering some cool swag to the winner below so enter to win!