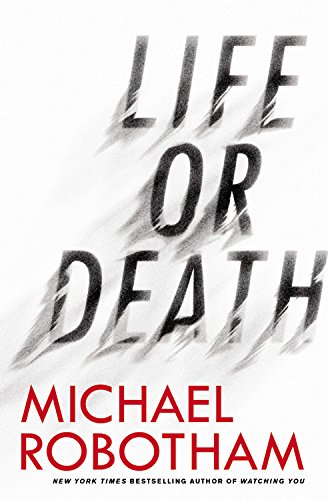 The blurb was what hooked me in with this story.  I was looking for a mystery/thriller type book and this one was really good!  I highly recommend it if you feel like something different.
The blurb
Why would a man who has served a long prison sentence escape the day before he's due to be released?
Audie was sentenced to 10 years for a robbery in which four people died, including two members of his gang. Five million dollars has never been recovered from the robbery, and everybody believes Audie knows where the money is.
For 10 years Audie has been beaten, stabbed, and threatened by inmates and guards, all desperate to know the secret. The day before he is due to be released, Audie suddenly vanishes.
The hunt for Audie, and the money, is on. But Audie's not running to save his own life–instead, he's trying to save someone else. In what promises to be his most popular thriller yet, Robotham has created the ultimate underdog hero, an honorable criminal shrouded in mystery and ready to lead readers on a remarkable chase.
My Review
I loved listening to this one (even with the male narrator sometimes creating an 'interesting' southern woman's voice). The story is an 'unfolding' one which can be slightly confusing at times but seems to clear up a few minutes later.  The main character is the likeable Audie who escapes from prison the day before he's meant to be released from a 10 year armed robbery jail sentence. I loved how the story started to make more sense as I went along.  Gripping & great, 5 stars!

About the Author
Visit Michael Robotham at his Goodreads author page or Amazon author page.  He has a lot of books out and there you can find out about his earlier novels.
Buy the Book
| | |
| --- | --- |
| Author | Michael Robotham |
| Binding | Hardcover |
| EAN | 9780316252058 |
| Feature | Why would a man serving a long prison sentence escape the day before he's due to be released? |
| ISBN | 0316252050 |
| Label | Mulholland Books |
| List Price | $26.00 |
| Manufacturer | Mulholland Books |
| Number Of Items | 1 |
| Number Of Pages | 432 |
| Package Quantity | 1 |
| Product Group | Book |
| Product Type Name | ABIS_BOOK |
| Publication Date | 2015-03-10 |
| Publisher | Mulholland Books |
| Release Date | 2015-03-10 |
| Studio | Mulholland Books |
| Title | Life or Death |
Bestsellers like Life or Death