I have had this series on my reading radar for a few months now. My blog assistant Trish has read and reviewed this series (see her Interview with a Master review) and she loves it! See why below! 🙂
Title:  In Love with a Master: Interview with a Master 2 Author:  Jason Luke
In Love with a Master Book Summary
How high a price will one man pay to know love? For Jonah Noble, life has always been his world – his way. But now, confronted with his own mortality, and staring certain death in the face, he realises his one regret… Will Leticia be his last chance? He knows she has feelings for him, but can he ever feel the same strength of emotion for her? Can Jonah make the leap of faith that will put his heart in danger? It's his world. His way. But now his life is on the line… (BDSM erotica from a man's POV, written by a man. Contains some explicit language.)
Jason Luke Bio
Jason Luke is an Australian author who began writing in September 2013 at the suggestion of his longtime girlfriend. 'Interview with a Master' is Jason's first erotic BDSM novel. Jason Luke enjoyed several years involved in the BDSM lifestyle – but he is quick to point out that his experiences don't qualify him as an expert; any more than knowing how to drive a car makes him a qualified mechanic. 'Interview with a Master' is a novel about how one man became a Master. The book is a work of fiction, but Jason has drawn heavily on encounters from his own real life. He won't say which parts of the book are fictionalised, and which parts are auto-biographical. Before taking up writing, Jason worked 6 days a week, 12 hours a day running a variety of retail businesses. He has lived in Sydney all his life. His favourite bands are U2 and INXS.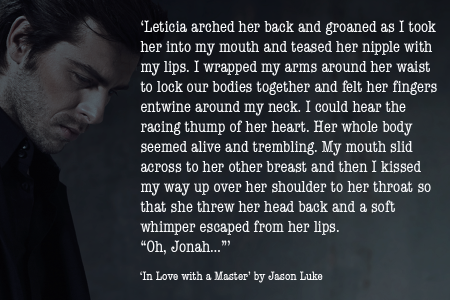 Buy links:
Amazon US: http://amzn.to/1pjA3ID
Amazon UK: http://www.amazon.co.uk/dp/B00L3KTBBU
Amazon AU: http://www.amazon.com.au/dp/B00L3KTBBU
Review by Trish Bacher
5 ANTICIPATING STARS Simply outstanding and brilliant. Jason Luke transports us back into the lives of Jonah and Leticia and provides us with more insight into Jonah's world. The anticipation for the release of this was huge. I waited with baited breath to see if Jonah and Leticia would ever have a future together. I was not disappointed, even though the ending was not what I expected it to be – but nonetheless it was extraordinary. The story is full of a range of emotions and feelings, revelations, steamy sex which will leave you breathless and a number of unexpected twists and turns. I felt every single emotion these characters were going through – from the sensual and passionate kisses Jonah and Leticia shared to the hurt and sadness that they both went through. Jason has a way with words and his writing is so descriptive that it really leaves nothing to the imagination. You are right there with the characters. He makes everything feel so real. Jason Luke took me on a remarkable journey through the eyes of Jonah Noble – his life, his beliefs, his knowledge and his discoveries. Beautifully written, beautifully portrayed and beautiful characters. An exquisite story of finding and realizing what love is for one man and what it means to him and how he deals with it and life. To Live and Love Life and Regret Nothing.
Quotes
"Anticipation is at its most effective, most seductive, when the next moment remains a mystery." ~Jonah Noble "Most men are more interested in their erection, and what they will get afterwards to be focused enough to stay in tune with their woman's needs while pleasuring them," I explained. "Because women are stimulated so differently, and because their arousal and release begins at a different place to a man's, the man needs to be totally committed and patient. This is not a miracle solution for millions of frustrated women – it's just common sense. But with the right attitude a man who knows this technique has within him the ability to sexual enslave a woman. It's been my experience that once a woman has enjoyed this kind of an orgasm, they become desperate for more of the same." ~ Jonah Noble
Social Media Links
Facebook: www.Facebook.com/JasonLukeAuthor Twitter: @JasonLukeAuthor Goodreads: https://www.goodreads.com/book/show/20569957-interview-with-a-master Mailing List for Newsletter Updates: http://bit.ly/1tlvv6l Authorgraph: https://www.authorgraph.com/authors/JasonLukeAuthor
Buy the Book