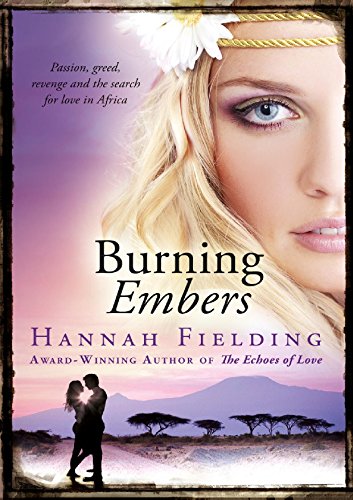 The Blurb
Coral Sinclair is a beautiful but naive twenty-five-year-old photographer who has just lost her father. She's leaving the life she's known and traveling to Kenya to take ownership of her inheritance–the plantation that was her childhood home–Mpingo. On the voyage from England, Coral meets an enigmatic stranger to whom she has a mystifying attraction. She sees him again days later on the beach near Mpingo, but Coral's childhood nanny tells her the man is not to be trusted. It is rumored that Rafe de Monfort, owner of a neighboring plantation and a nightclub, is a notorious womanizer having an affair with her stepmother, which may have contributed to her father's death.
Circumstance confirms Coral's worst suspicions, but when Rafe's life is in danger she is driven to make peace. A tentative romance blossoms amidst a meddling ex-fiancé, a jealous stepmother, a car accident, and the dangerous wilderness of Africa. Is Rafe just toying with a young woman's affections? Is the notorious womanizer only after Coral's inheritance? Or does Rafe's troubled past color his every move, making him more vulnerable than Coral could ever imagine?
Set in 1970, this contemporary historical romance sends the seemingly doomed lovers down a destructive path wrought with greed, betrayal, revenge, passion, and love.
A glimpse of Burning Embers…
That night Rafe couldn't sleep. He sat in the dark in an armchair in his room, leaned his head back,and closed his eyes as images of the day flooded his brain. Coral had been full of surprises. It was difficult not to watch her as she went about her work, so masterful with her camera, and he found himself wanting to share in her experience even if it was just showing her where to get the best pictures. He had never seen this side of her before, so professionally immersed in her craft. She was dazzling. Her energy had radiated through, making her complexion luminous and her eyes glittery. He had kept his gaze fastened onto her, taking in her beauty. Rafe had always found her body irresistible, and now he had discovered another part of her that was even more compelling. He checked himself; he must not dream the impossible dream. She could never be his, entirely his forever. It was not fair; it was not right. A great portion of his life was behind him while all of hers was still in the future. He must keep repeating this in order to stop himself from straying. But he was aware of the potencyof feelings between them and how suddenly their emotions were developing. In his mind's eye, here played the way she had watched him as he came toward her out of the lake, the silent passion in her eyes, the way she had trembled in his arms when he had pulled her up against him, and the warmth of her as she returned his kisses.The temptation to give in to their mutual attraction was so strong that he feared his fiery Frenchblood would rule and he would surrender to the passion that burned in his gut. He couldn't…Hemustn't…
Genre: Historical Romance set in Africa
Published: 2012
Add on Goodreads: Burning Embers
My Review
This book starts off straight away with our heroine having a chance encounter with our hero on a ship they are both sailing on from England to Kenya.  Coral, our English heroine has inherited her families' large property and decides to visit her old childhood home to claim her inheritance.
Rafe our hero is quite a bit older than the young Coral and they keep meeting by chance at social events in the small circle of ex-pats living in Kenya.  The tension between them builds gracefully over the course of the novel.  Coral is a naïve 24-year-old and believes the experienced Rafe wouldn't like someone like her.
This book paints a vivid picture of what Africa is like and the descriptions are magical.  I felt like I was in the story with them.  I was transported to a different time and place and could imagine I was also living the good life in Kenya.
This book isn't a page-turning mystery where you absolutely need to know what happens next but there is definitely drama and it's a very enjoyable read.  I thought my mother in law would like this type of story and I lent it to her to read.  She read it quickly and told me she enjoyed it.  This is by no means erotica but there are some slight sexual scenes.
I am rating this book 4.5 stars because it's a story that has stuck with me since I read it and I would recommend it if you are looking for a historical romance with a unique setting.

About the Author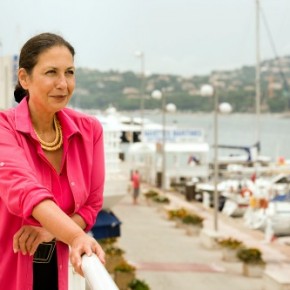 Hannah Fielding is an incurable romantic. The seeds for her writing career were sown in early childhood, spent in Egypt, when she came to an agreement with her governess Zula: for each fairy story Zula told, Hannah would invent and relate one of her own.
Years later – following a degree in French literature, several years of travelling in Europe, falling in love with an Englishman, the arrival of two beautiful children and a career in property development – Hannah decided after so many years of yearning to write that the time was now. Today, she lives the dream: writing full time at her homes in Kent, England, and the South of France, where she dreams up romances overlooking breath-taking views of the Mediterranean. 
To date, Hannah has published four passionate, evocative novels: Burning Embers, a 'romance like Hollywood used to make', set in Kenya; the award-winning Echoes of Love, 'an epic love story that is beautifully told', set in Italy; and books 1 and 2 of the Andalusian Nights trilogy, set in sultry Spain, entitled Indiscretion and Masquerade. She is currently working on her fifth book, Legacy, which will publish this spring.
Enter the giveaway
Buy the Book
Similar Bestsellers